"All mothers take care of their daughters": traditional Korean dish honors motherhood through children's birthdays
Birthdays are all about celebrating the arrival of a child, but in Korean tradition, a special dish prepared on each birthday honors motherhood and the relationship between parents and their children.
During my husband's birthday weekend, his favorite dishes were on the menu: baked mac and cheese and yellow cake with fudge frosting. Aaron chooses them every year, but I always do a little pot of miyeok guk — seaweed soup.
I wash and soak the dehydrated seaweed in cold water. As a kid, I always wondered how the green slimy things you find in the ocean turn into those frizzy strands. Now every time I do it, the smells and taste remind me of my Oumamy mother, cooking Korean food for me.
It's simple: mainly with seaweed, with a beef stew sautéed in sesame oil, soy sauce and garlic. There is a secret ingredient my Ouma uses, and I think she'd get mad if I revealed what it was, but adding it is key to giving the soup that extra depth of flavor.
Every birthday she cooked it for my birthday without fail. For my oppa, my big brother and my app, my father too. Ouma told me that after every birthday she ate miyeok guk during postpartum recovery, my harmonicmy grandmother, made for her.
There are health benefits to eating seaweed, which is rich in iron and vitamins. It's the epitome of home cooking, like my Ouma calls him.
"In Korea, from the moment you are in the hospital, from the moment the baby is born, you eat Miyeok Guk," she said. "So there was a time when for a month I ate nothing but seaweed soup."
Postpartum care is known as sanhujori. It is traditionally provided by the new mother's family members and in-laws. They cook healthy, hot food and help care for the baby while the mother recovers.
It is also important to keep the body warm. For Korean mothers, being exposed to even a cold breeze is considered a taboo. Ouma says it's because if a new mother fails to keep her body warm, it's believed she may become vulnerable to a lifelong illness.
When Ouma gave birth in a hospital in the United States, she found a very different approach to postpartum recovery.
"What surprised me was the difference in culture," she said. "When I gave birth in an American hospital, I wanted to eat miyok guk. I said I could eat something hot because I was cold. But at the hospital, they gave me ice cream.
While eating miyeok guk on our birthday, we are reminded to thank our mothers by eating the same food as after childbirth. Ouma said that my harmonic cared for her after each birth, staying for nearly a month until she recovered.
"All mothers take care of their daughters" Ouma mentioned. "If they take their socks off, they put them back on. Even when they don't want to, they still put it back for them. They dress them in warm clothes, otherwise later it will become tiring.
And they make birthday soup.
My parents immigrated to the United States in the 1980s. They wanted to be sure that my oppa and I grew up speaking Korean at home and we ate Korean food at almost every meal. Ouma said she was so happy that I learned to cook, adding "If you didn't learn or didn't want to learn, then [cooking Korean food] could end up with my generation.
I did not marry a Korean, but Ouma said she was so happy that Aaron and his family love Korean food. She also loves that there are traditions that we can one day pass on to our own children.
Now I cook these dishes in my own kitchen. I cooked my Ummahs soup for my husband on his birthday. He asked me to teach him how to do it so he could make me miyeok guk for my birthday next winter.
Because of my Oumaevery time I choose to have children, miyeok guk will be on the menu to remind them of me, just as I remember my own mother.
Gallery
9 of 9
1 of 9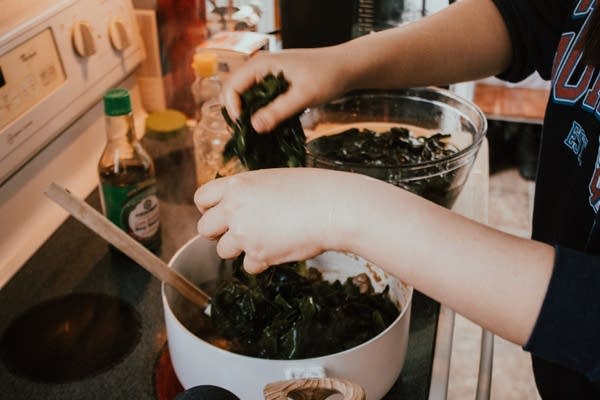 2 of 9
You make MPR News possible. Individual donations drive the clarity of our reporters' coverage across the state, the stories that connect us, and the conversations that provide insight. Help ensure that MPR remains a resource that brings Minnesotans together.
Donate today. A donation of $17 makes a difference.