Puslinch native Matteo Furfaro brings his deep pizza experience to Guelph
Puslinch native Matteo Furfaro brings his deep pizza experience to Guelph
— July 3, 2022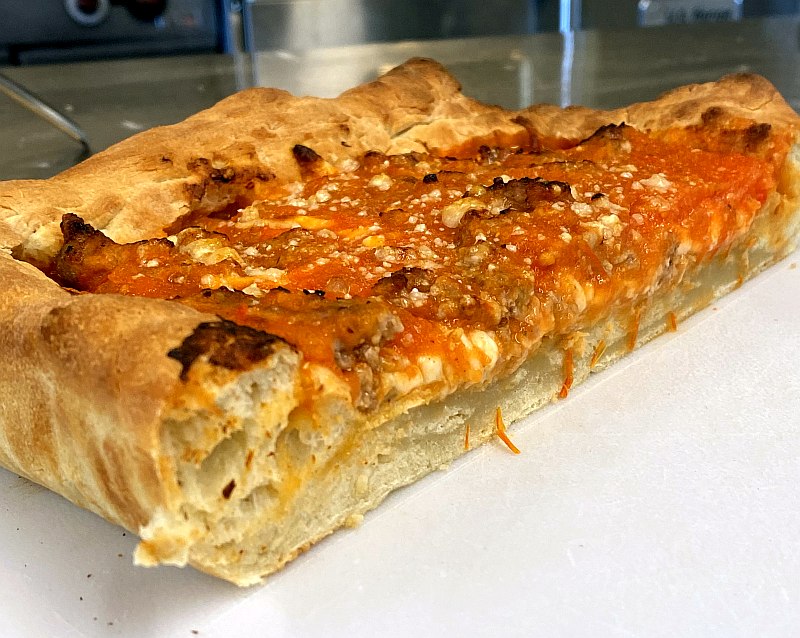 native of Pulslinch Matteo Furfaro caused a stir on the Guelph food scene by opening Guelph's only deep dish pizza restaurant, Casa Deep Dish Pizza! Casa is a made-to-order pizzeria, operating out of a shared kitchen space at 42 Carden Street, directly across from Guelph City Hall (be sure to pre-order your pie on casadeepdishpizza.ca!).
Each Casa Deep Dish pizza is made from a culmination of Furfaro family recipes that have been passed down to Matteo from generation to generation.
But how did Matteo come up with the idea of ​​starting a deep-dish pizza restaurant?
Matteo is a student at Algonquin College in Ottawa, where the idea for Casa was born during a conversation with one of his professors. His teacher said there were no good places to get deep-dish pizza in Ottawa.
Matteo spent the next few months after that conversation researching deep-dish pizzas, trying out recipes and techniques, and getting everyone he knew to try his creations until he had built the perfect deep-dish pizza. That's when Casa Deep Dish Pizza was born!
After several unsuccessful attempts to find a location in Ottawa, Matteo decided to move his business back to Guelph. In his search for a kitchen space to run his business, Matteo came across 10C, which is the shared kitchen space Casa now calls home.
When Matteo made the decision to bring deep-dish pizza to Guelph, he tapped into Guelph's Summer Company program, a grants and mentorship program for young entrepreneurs. This program has provided Matteo with financial support as well as guidance from industry professionals who continue to help him on his entrepreneurial journey.
Casa Deep Dish Pizza officially opened on June 16 and operates Thursdays and Fridays from 4-9 p.m. and Saturdays from 5-9 p.m. If you want delicious handmade pizza with local ingredients and family recipes for pickup or catering for any size and type of function, head over to casadeepdishpizza.ca and follow @casadeepdishpizza on Instagram, TikTok and LinkedIn to get a slice of the house!