Recreate this Pork Dish Using Leftover Pumpkin
Make It Scotch and culinary influencer Jess Tedds have created a meaty version of the trending pumpkin spice flavor by pairing it with specially selected pork.
Jess – known as Just Jess Food – has crafted a pork dish that uses leftover pumpkin by adding spices including ground cinnamon, nutmeg and cloves to give the dish that signature flavor of spice.
In a bid to rival the Pumpkin Spice Latte, Jess paired the root vegetable with specially selected pork as a healthier alternative.
Jess hopes her specially selected pork meatball and pumpkin ricotta risotto will inspire others to get creative with seasonal produce and make the most of leftovers.
She said: "I wanted to create a dish that was easy to make at home, but also affordable and could be enjoyed by the whole family.
"Specially selected pork is so versatile and goes perfectly with the underutilized pumpkin that more often than not gets thrown in the trash this time of year because we don't really know what to do with the leftovers once cut out."
Lesley Cameron, Director of Marketing and Communications at Quality Meat Scotland, said: "In the current climate, it's understandable that shoppers are looking to cut costs when it comes to their weekly shop. Over the past few months we have seen an increase in the number of people preferring pork over chicken and fish. »
Jamie Fleming, communications partner, Zero Waste Scotland, said: "Two thirds of the 1.8 million pumpkins Scottish people buy on Halloween end up being thrown away rather than eaten. Imagine doing the same with your Christmas turkey and you'll see how spooky it is.
For more recipe ideas, visit www.makeitscotch.com.
---
Specially Selected Pork Meatballs and Pumpkin Spice Ricotta Risotto
For 4 people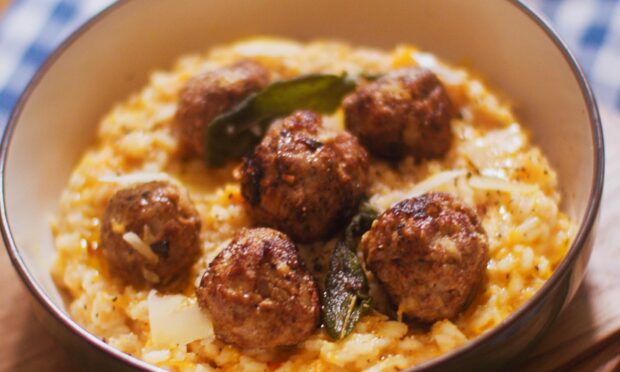 Ingredients
For the meatballs:
250g specially selected minced pork
2 teaspoons applesauce
1 teaspoon of cinnamon
½ teaspoon ground nutmeg
½ white onion
1 clove of garlic
Salt and pepper
A handful of crushed panko breadcrumbs
Butter
Fresh sage
For the pumpkin puree:
700g leftover pumpkin
drizzle of oil
Sprinkle with ground cloves
For the risotto:
drizzle of oil
½ finely chopped onion
1 minced garlic clove
50ml white wine
75g risotto rice (per person)
2½ cubes of ham stock to make 2.5l
Salt and pepper
1 heaped teaspoon of ricotta
Parmesan cheese
Method
To make the meatballs, mix everything together and roll into ping pong table sized meatballs (maybe a bit smaller). Next, in a saucepan, add butter and fresh sage to make sage butter and gently sauté the meatballs in it until cooked through and set aside.
To make the pumpkin puree, cut 700g of leftover pumpkin into cubes, season with salt and pepper and add a drizzle of oil and roast in the oven at 180C/Gas 6 for 20-30 minutes until tender. they are tender.
Blend until the roasted pumpkin forms a puree.
This should produce the 425g of pumpkin puree needed (any excess can be frozen and reused).
Add a pinch of ground cloves to the mash before adding it to the risotto mixture.
To make the risotto, in the same meatball pan (do not wash). add a little oil, the other half of the finely chopped onion and the chopped clove of garlic, sauté for a few minutes and deglaze the pan with 50 ml of white wine and leave to simmer.
Add 75g pp (I added about 300g) of risotto rice and stir for 30 seconds.
Then create your broth with the ham stock cubes. About 2.5 liters.
Gradually add a ladle of broth at a time to the rice and stir constantly until dissolved and so on until all the broth has moved; it will take about 20-25 minutes in total.
Then, closer to the end of the broth, start adding your pumpkin puree a large spoonful at a time.
Season with salt and pepper to taste then stir in a heaped tablespoon of ricotta. Add the meatballs and any other broth if needed to make it nice and silky. Sprinkle with Parmesan if desired and garnish with a few sprigs of fresh sage.
Already subscribed? Login
[Recreate this pork dish that makes use of leftover pumpkin]
[[text]]