THE TASTE OF LIFE/ Curry with daikon radish and minced meat: Dish for the other members of the troop starting point of the cooking career
Editor's note: In the Taste of Life series, culinary experts, chefs, and others involved in the food business showcase their special recipes related to their life journeys.
* * *
After graduating from college, Nahomi Edamoto worked part-time at a fusion-style restaurant her friend had opened in Tokyo's Nakano district and started cooking.
"I had cooked for myself as I lived alone, but it was sloppy," she says.
To serve great food to guests, she used spices she found at the restaurant and experimented with dishes until she came up with delicious treats.
At the time, Edamoto was an aspiring actress and member of a theater company. The theater was in what looked like a warehouse district and there was no place to eat nearby.
The theater troupe decided to cook meals for the audience and troupe members, and Edamoto, since she worked in the restaurant, was put in charge of the cooking.
She was making curry which filled a large pot.
"Almost every day, I cooked by myself for 40 to 50 people," she says.
She would slowly cook sliced ​​onions, add spices and simmer.
As the theater company lacked funds, Edamoto was creative with the ingredients.
A popular menu was curry with daikon radish, which was inexpensive, bulky, and less likely to crumble. She even added her zest to the pot.
Playing on words, a director jokingly told him, "No wonder you're a 'daikon yakusha.' The term means an unskilled actor.
The troupe ends up disbanding.
As she wondered what to do next, a writer Edamoto had worked with at the restaurant asked her to write cooking articles for a magazine.
This was her first step in her career as an expert cook.
"I didn't go to a culinary school and started cooking on the spur of the moment," says Edamoto. "If you ask me where I start, I think it's curry. The experience of serving a large group of people formed the basis of my cooking career.
In this week's recipe, the sliced ​​onion is microwaved first to shorten the cooking time.
How far you want to blast it after that depends on your stamina. The flavor will deepen if you sauté until the onion turns black.
* * *
Nahomi Edamoto: Born in Yokohama in 1955, Edamoto worked in a fusion-style restaurant while a member of the Tenkei Gekijo theater company. She has written many books, including "Kukkingu to jinsei sodan" and "Edamoto Nahomi no riaru asa gohan". She is a co-representative of the Big Issue Japan Foundation, a non-profit organization that aims to address poverty issues with a focus on supporting those in need.
BASIC COOKING METHOD
Main ingredients (For four to five people)
2 large onions, 300 grams of ground pork, 2/3 (600-700 grams) of daikon radish, Ingredient A (1 teaspoon cumin seeds, 1 cinnamon stick, 2 bay leaves), Ingredient B (2 chilli pods, quarter thumb-sized ginger), Ingredient C (2 and 1/2 tbsp curry powder, 2 tomatoes, 1 tsp granulated stock, 1 and 1/3 tsp salt), 2 tablespoons of oil
1. Cut the onions in half. Then cut horizontally in half and thinly slice. Place the slices in a heatproof bowl, cover with plastic wrap and microwave at 600 watts for 12 minutes.
2. Peel the daikon radish and cut it randomly into bite-size pieces. Cut the tomato in the same way. Cut the ginger into thin slices.
3. Pour the oil into a large frying pan or pot and place it on the heat. Add ingredient A (if available) then ingredient B. Add microwaved onion and cook for 15 minutes over medium-high heat, stirring occasionally, until browned.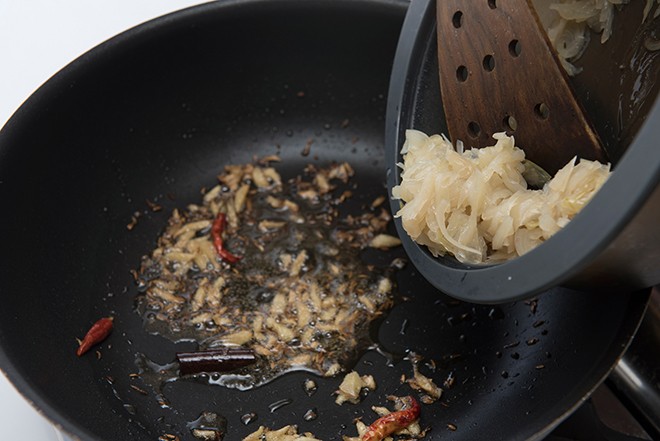 4. Place the daikon in a heatproof bowl, cover with plastic wrap and microwave at 600 watts for 10 minutes.
5. Add the ground pork to the onion, loosen it and cook until it changes color. Add Ingredient C and cook until well blended. Add the daikon plus 2 and 1/2 cups of water and mix. Simmer over medium heat for about 20 minutes, stirring occasionally.
6. Taste and add salt, pepper, garam masala or yogurt to taste. Serve with rice and a boiled egg and cilantro on the side.
Assuming ingredients serve four, approximately 345 kcal and 2.4 grams of salt per serving of roux
(Nutrient calculation by Kagawa Nutrition University Nutrition Clinic)
(This article was written by Mika Omura and Miki Kobayashi.)
* * *
This column, translated from the Asahi Shimbun's Jinsei Reshipi (Recipe for Life) column, will next appear on May 19.